Horrific video footage has emerged out of Chicago after a violent gang was captured dragging a Chicago-area couple out of their car and shooting them at point-blank range.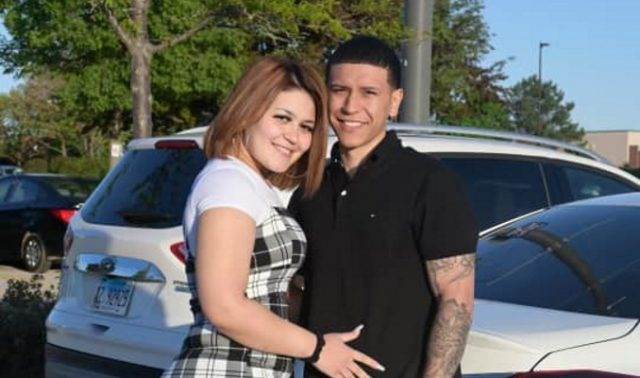 Gyovanny Arzuaga and Yasmin Perez, a Chicago-area couple, were leaving Chicago's Humboldt Park on a Saturday night, following the city's annual Puerto Rican People's Day Parade, when the couple was targeted by a violent gang. As the couple left the festivities and headed westbound, their car was swarmed, according to CBS 2 Chicago, and it was all caught on video.
Right in front of celebrating crowds that were flooding the street around 9 pm, the gang gathered around the couple's car at Division Street and Spaulding Avenue and shots rang out. An unnamed man, who was live-streaming video to Facebook but didn't want to be identified out of fear of retaliation, captured the nightmare as it unfolded. Be forewarned, it's difficult to watch.
After the violent gang swarmed the Latino couple's car, which was displaying a Puerto Rican flag, "shots rang out, people scattered, and then a man pulled out a gun and shot two people outside the sport-utility vehicle. The video showed him firing the rapid shots and then running away," CBS 2 Chicago reported. Police said the incident started with a minor car accident, according to ABC 7.
"And then a group of people swarmed that specific car, and they're seen hitting and beating the woman and then eventually dragging her," said CPD Chief of Detectives Brendan Deenihan.
The footage captured the couple being dragged from the car and laying on the ground after being shot at point-blank range. The young father, who was just 24 years old, died of a gunshot wound to the head at AMITA Health Saints Mary and Elizabeth Medical Center. The mother of his children was shot in the neck and rushed to Stroger Hospital of Cook County in critical condition.
The suspects, who fled the scene, were still at large the day after the tragic shooting when a memorial for Gyovanny Arzuaga, who was affectionately called "Gyo" by his loved ones, was mounted at the site where the murder happened. It read, "Rest in peace, Gyo." A GoFundMe page was also started to benefit the family. It had received more than $23,000 in donations the day after it was created.
"Gyovanny Arzuaga and Yasmin Perez were celebrating at the Puerto Rican Day Parade in Humboldt Park when they were both tragically shot," the GoFundMe campaign explained. "Gyo unfortunately passed away after arriving to the hospital and Yasmin is in critical condition after sustaining a gunshot wound to the neck. Please keep them, their children, and their families in your thoughts and prayers during this time. This fundraiser is to cover funeral service costs for Gyo's family and medical bills for Yasmin's family."
Two days after the shooting, CWBChicago shared what is believed to be the last photo of the male victim with one of his children. "You may have seen the horrifying video of a man and woman being dragged from their car and shot yesterday evening," the post read. "Man died, woman critically injured. This is the last photo the man, Gyovanny Arzuaga, posted to Facebook yesterday afternoon. He was 24. #Chicago"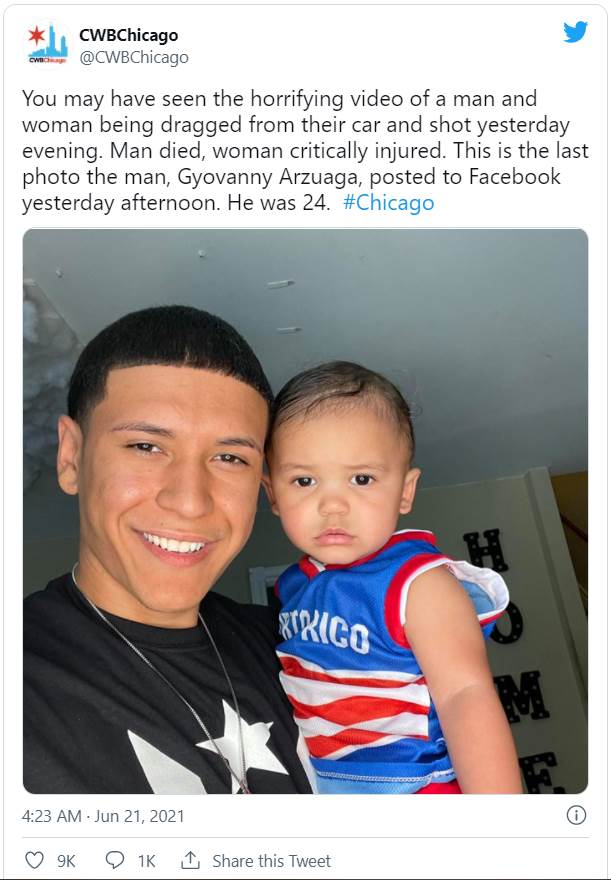 Unfortunately, like Gyovanny Arzuaga, Yasmin Perez would also succumb to her injuries. "Sadly, this morning, Yasmin passed away due to her injuries," read an update on a GoFundMe page set up for the couple's medical and funeral expenses. "She fought hard for the last couple of days, but ultimately decided it was time to join Gyo in heaven. We are all heartbroken and devastated beyond belief as they leave behind two beautiful children, Sofiya and Jayden."
The gruesome murder that left this young father and mother dead was just one of two shootings near the Division Street intersection that fateful weekend and only one of a rash of shootings in Humboldt Park that saw "54 shot, 7 fatally, in weekend violence across the city," ABC 7 reported. In another shooting, a "25-year-old woman sustained a gunshot to the head and died at the scene, police said," according to NBC Chicago. She and another victim were struck by gunshots while riding in a vehicle in the Ashburn neighborhood.
A "male victim, who is 29 years old, sustained gunshot wounds to the back and hand, along with a graze wound to the head," the outlet added. Making that particular shooting all the more heinous, however, a child, whose age remains unknown, was also in the car when a vehicle, described as a possible burgundy Dodge Durango, drove up alongside the victims' vehicle, and someone inside then fired shots. Although the child was not injured, they were taken to the hospital as a precaution.
Community activist Donovan Price said that it was a "miracle" bullets didn't hit the baby but added, "The child is going to be traumatized." Sadly, it seems this is just part of growing up in Chicago, where gun violence has grown to epidemic proportions with dozens of shootings in one weekend alone, despite some of the strictest gun control laws in the country. "I am scared. I am getting out of Chicago. It's a wrap, I'm leaving," said one Humboldt Park resident, who's fearful for her family living in the city. After a weekend like this, who could blame her?