Fans are freaking out after noticing what appeared to be the face of a man in the background of one of Jennifer Lopez's recent selfies.
The star was posing in her gym – after a rather high octane workout, we're sure, to maintain those abs of steel – when she snapped a mirror selfie to share with the world.
While we were in utter astonishment of how the woman looked so perfect after a sweat sesh, attention soon turned to the figure over her right shoulder.
If you dragged your eyes from the queen that is Jenny from the block you'd see a bunch of workout gear, some mirrors…then something else.
In the background, there appeared to be a figure of a man peeking out from between some sheer curtains, who some fans suggest has a hand over their mouth, or a mask.
Some even joked the 51-year-old icon was holding a man hostage in her house – which is something we can assume is most definitely not the case but honestly, if JLo wanted to set the record straight that would be great.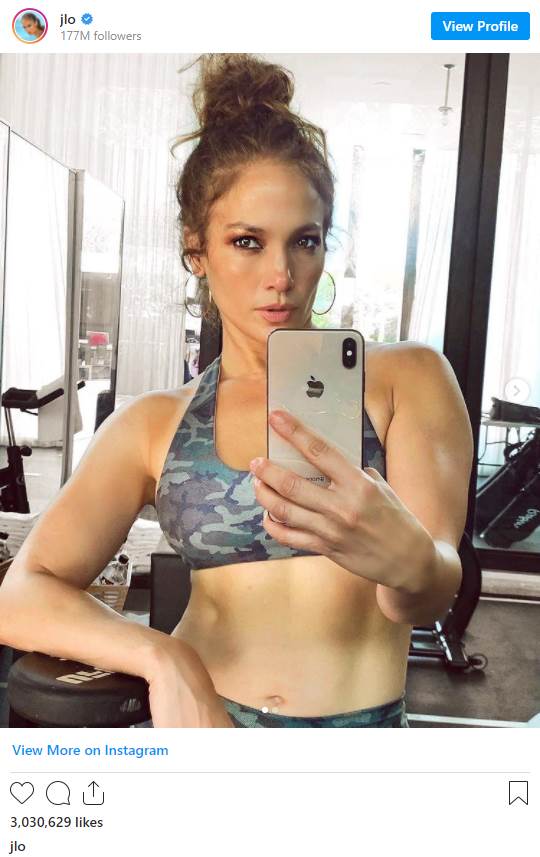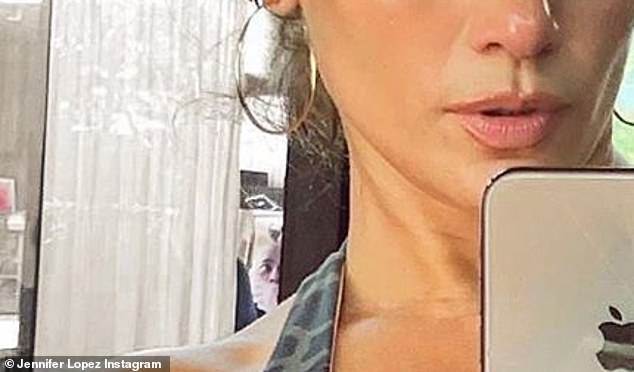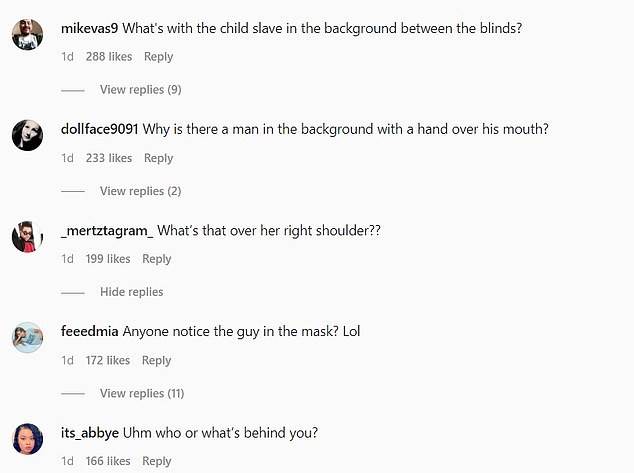 Honestly, the eyes can play tricks on us so a much more realistic explanation is that it's a) her fiancé Alex Rodriguez playing a prank on us all, seeing as Jen seems to be looking towards the figure or b) an objecting sitting in such a way it gives the illusion of a human head.
Still, fans are ruddy freaked out as they reacted to the snap on Instagram.
One fan asked in the comments: 'So are we not going to talk about the person behind her hold their mouth? (sic)'
Another enquired: 'What's with the man with his mouth covered in the back bedroom??!!' while a follower similarly asked: 'Who's that in the mirror over your shoulder?'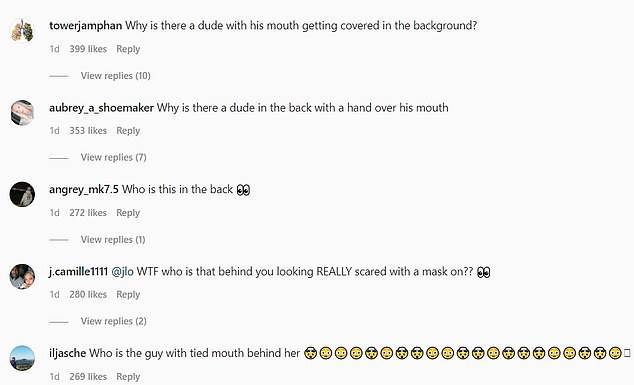 Some complained that the singer was deleting comments about the man in the background, though plenty were visible
While some fans seemed genuinely concerned, others were clearly trolling the Hustlers star.
Some complained that the singer was deleting comments about the man in the background, though plenty were visible.
Setting the record straight during an appearance on The Tonight Show Starring Jimmy Fallon on Friday, Lopez explained that the man was actually on a video call with her fiancé, Alex Rodriguez.
"That was a Zoom!" she said when host Jimmy Fallon asked about the photo, before explaining that she and Rodriguez did not have a gym in the house prior to the current coronavirus pandemic so she was actually in the garage, which is adjacent to where Rodriguez was doing his call.
As for the identity of the mystery man? "It was some real estate guy that Alex was on Zoom with," Lopez revealed.
Earlier this week, a source close to Lopez and Rodriguez told PEOPLE the same thing: what fans saw was nothing more than a Zoom meeting in action on a laptop screen.
"Jen and Alex's gym is attached to their office space," the insider said. "When they have a Zoom meeting, they project it on to a big screen."
"You can see Alex's arm in the photo (he's wearing a blue shirt)," the source continued. "The man in the photo was a business associate on Zoom (on the big screen) and his hand was covering his mouth. That is not a mask."
Along with Rodriguez, Lopez has been social distancing with the former baseball pro's daughters Natasha, 15, and Ella, 12, and her twins Emme and Max, 12, at their home in Florida. To help her get through this uncertain time, she recently told PEOPLE says she's been leaning on meditation, prayer and routine.
"I'm letting everything take a break — my hair, damaged from 20 years in the business; letting my nails breathe; and generally taking care of myself," she said. "We don't want to come out of this without growing."
"It was fun at first to be comfortable, wear sweats and have messy hair, but then you start feeling like a mess internally," the global superstar added. "So I think it's about getting up, having a routine, trying to exercise, keeping my skin care routine regular, and using this time to get better."